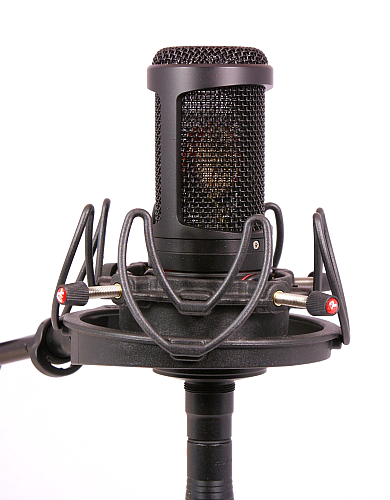 Sonodore Spot Microphone MPM-81 with tube amplifier.
The Sonodore MPM-81 is a multi pattern microphone for universal applications.
The aim of the design of this microphone was to design a spot microphone with a natural
and neutral sound with a good impulse response.
The sound of the MPM-81 is very alive, but not too sharp or metallic!
MPM-81 tube is suitable for vocal recordings
The combination with a tube amplifier result in a very 'musical' sound and make the mics
sounds really engaging.
Sound engineers call the sound "irresistible beautiful" with a vocal recording.
MPM-81 fet is suitable as an all round microphone.
It's a superb general-purpose microphone for all kinds of single instruments.
Design Features
At the heart of the microphone is a 1" dual mylar Neumann style capsule.
The polar pattern can be set infinity between omnidirectional, cardioid, and figure 8
using a potentiometer.
The MPM-81 will be supplied with the low distortion and with listening tests optimized
tube amplifier.

Materials
Only materials of the highest quality are used to ensure maximum reliability under tough
professional use. This means:
use of gold-plated contacts only
electronic components are selected for their proven quality in audio specific
equipment, handpicked, and individually tested.
specially coated circuit boards for optimal protection against damp and moisture
use of a special process for the production of printed circuit boards, which ensures
the purity of the copper pathways, resulting in greater stability and performance of
the circuit design.
The electronic circuit and components are optimized with listening tests.
Power supply
As part of the initial Sonodore philosophy, the microphone is 'active' powered via a
separate power supply PS-71T, PS-71DT instead of using standard phantom power.
Phantom-fed microphones are inherently less suitable for high-quality audio usage
since they work as compressors: when, for instance, high dynamics are required,
strong demands are made on the current supply of the phantom.
As a result, the current supply drops drastically and the stereo image and frequency
response collapse with it.
To avoid this, the MPM-81 is available in a version with a separate power supply which
allows a high-grade and exceptionally low-distortion amplifier to be placed directly in the
microphone body.
With active powering, the microphone current flows through a separated wire.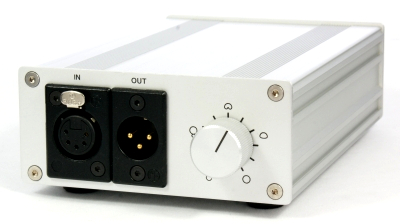 The microphone is supplied with:
Rycote suspensions

USM

VAN Damme Tour grade XKE starquad microphone cable, with Neutrik gold contact connectors.
or the van den Hul Integration Hybrid cable van den Hul

Aluminium case

Typical cardioid on-axis frequency response:



Technical Specifications MPM-81 Tube
Acoustical operating principe: 2 pressure gradient transducers
Directional pattern:
omnidirectional, wide angle cardioid, cardioid, hypercardioid, figure 8 and all intermediate values.
Frequency response: 5 Hz to 20kHz
Sensitivity at 1 kHz: 48mV/Pa
Maximum sound pressure level: 143 dB SPL peak
Equivalent noise level A-weighted: 12.5dB cardioid
Output impedance: 39 Ohms
Cable drive capability: > 100m
Amplifier components: Tube, transistors
Weight: 400g
Length: 162mm (6.38")
Diameter: 52mm (2,05")
Matching connector (to microphone): 6-pin XLR female
Powering: see different models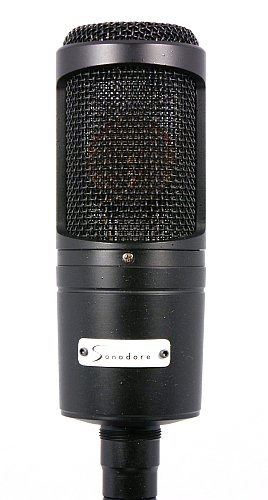 Different MPM-81 models

Tube, multi pattern with active 120V powering (6pin XLR).
Different power supplies:
PS-71T is a 1 channel power supply.
PS-71DT is a 2 channel power supply.

Audio samples


Different microphones: Sonodore RCM402, LDM54, MPM81
8 channel Rens Heijnis battery powered preamp, Horus converter
Performer: Lembit Saarsalu, Saxophone, Recording engineer: Aular Soon
192KHZ Audio sample

Voice (Thomas Oliemans) recorded with the Sonodore MPM-81 tube.
Track from Channel Classics recording Formidable! CC43321
192KHZ Gérard Daguerre Audio sample

Pipe organ recording with different microphones.
Equipment: Sonodore RCM402, LDM54, MPM81, retrofitted Schoeps
8 channel Rens Heijnis battery powered preamp, Horus converter
Performer: Andres Uibo, Recording engineer: Aular Soon
192KHZ Beethoven Audio sample
192KHZ MaxReger Audio sample

Voices recorded with the Sonodore MPM-81 tube.
The Coo - Rosie: from a live concert. Recording engineer: Jared Sacks
192KHz Audio sample.
YouTube video

Guitar recording with 1 Sonodore MPM-81 tube,
2 RCM-402 with MPB-502, Horus converter.
192KHz Audio sample

Musette by Hotteterre, Laurence Pottier and Daniele Barros.
96KHz Audio sample.
Equipment Sonodore MPM-81 tube, Horus converter.

Voice recorded with the Sonodore MPM-81 tube.
From Native DSD music.
Album: Raizes with Breno Viricimo, Laura Polence, Lilian Vieira
96KHZ Audio sample.
44.1KHz Audio sample.
Equipment: Rens Heijnis battery powered pre amp and mixing board,
Hapi recorder from Merging. Recording engineer: Jared Sacks.

Montenegrin Guitar Duo. J.S. Bach English suite No.1. Recording: Norbert Kraft.
16bits 44KHz Allemande Audio sample 1
24bits 96Hz Bouree 1 Audio sample 2
Equipment: Sonodore MPM-81 tube,

References:
Norbert Kraft from Naxos Records:
The MPM-81 is a superbly detailed microphone, as with all of the Sonodore models, and with the use of
vacuum tube circuitry, display the richly musical and 'involving' characteristics that we love so much in the
venerable classic tube mics, but without any of the inherent noise or other uneven colourations.
In addition, the circuitry and bias voltage make this an incredibly dynamic microphone without the
compression so often associated with the tube mics of the past..
The tonal character of the mic is in the sonic family of the M149, U47, or C-12, and with infinitely sweepable
pattern selection, adds a level of flexibility. They are perhaps most effective when used in the 'mid-field',
or even as far-field mics, but also capture an incredible complexity and detail in close-miking situations.

Is there such a thing as "the perfect microphone" ? Of course not.. every mic has characteristics suited to
different situations, instruments and acoustics. It is why there are so many models from all the great makers.
This microphone is a deserving member of the Sonodore 'family', all of which surpass anything else in the
critical recording industry in my opinion, and adds a wonderful option to my 'quiver'.
How great it is to have the choice of a Stradivarius, an Amati, and a Guarneri .. that is what these mics are;
the very best instruments in the sound engineers' toolbox.. Highly recommended !

Christian Sager:
I am happy with the new MPM-81. Musicians are always thrilled about the reproduction of their instruments.
It's a great joy to work with them and makes my job a lot easier.
Different references:
These microphones are masterpieces! Extremely clear with zero coloration, and highly sensitive.
They are so far the best mics I've ever used.
Sonodore price list with Mogami cable